"

What a great album, Love Tattoo is not just the name of the band, it's also a statement because "I Love Tattoo"! One for all you lovers of Neo Rockabilly."
— Tony Screti, Slap That Bass Rockabilly, R&B, Psychobilly, Rock n Roll Album reviews
"

A modern rockabilly band fronted by a feisty femme vocalist are attracting attention already with this 13-track debut album on shiny. That lady on lead vocals is Nicola Carla and like the rest of the band - Kurt Fox on bass, Dave West on drums and Johnny J on guitar - she was born a few miles away from the Liverpool Cavern Club. The band name was inspired by the Imelda May title and there's some fine writing complemented by excellent picking from Johnny J. We are likely to be hearing more from these seasoned musicians."
— Vintage Rock Magazine
"

When you get a few listeners request a band you never heard of you gotta take action. Big shout out to #lovetattoo for sending us their sweet debut album. This baby clocks in with 13 original tracks of real cool #modernrockabilly #rocknroll. It's a straight up winner and you should check them out!"
"

2,000 Facebook page likes in just 10 weeks"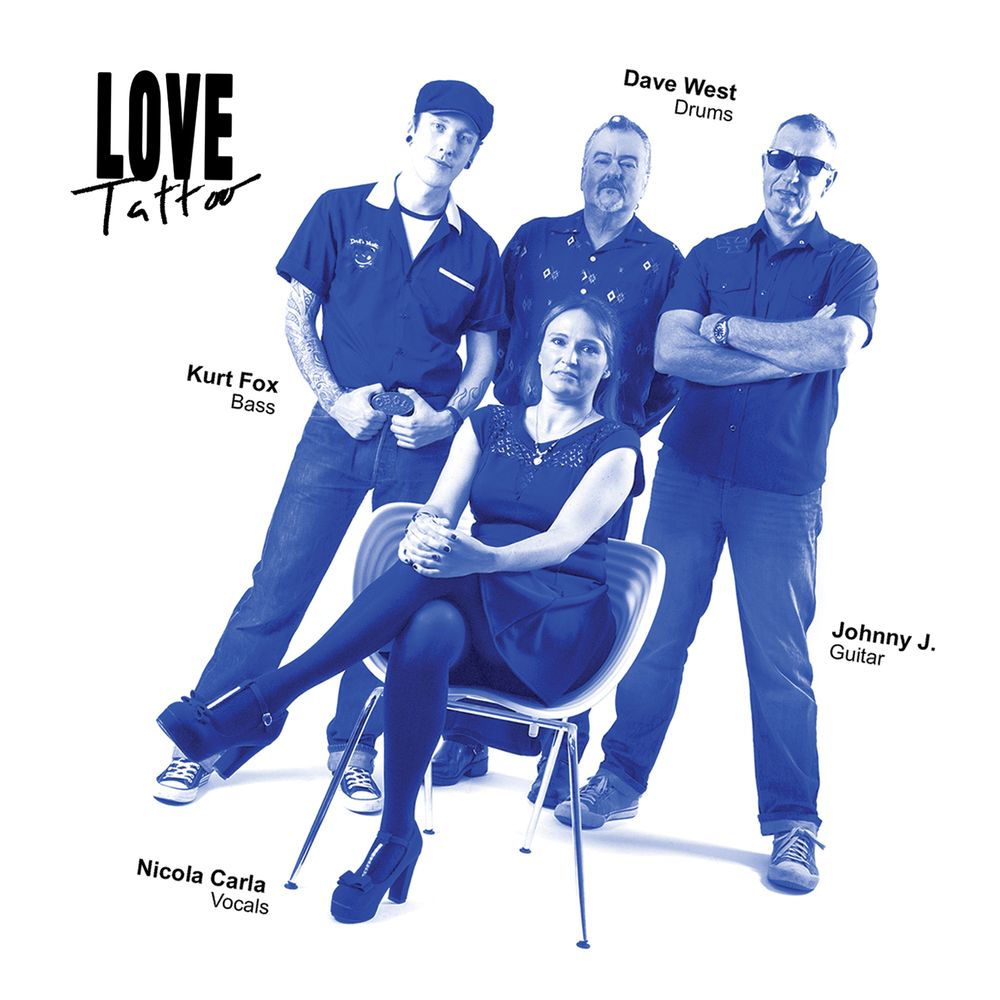 Our Story
All four of us were born in the UK within a few miles of the most famous music club in the world...  Liverpool's Cavern Club.  
Some of our parents were members back when the fab four burst onto the scene.  They brought the energy and excitement of the rock and roll and beat music home with them and transferred their passion for the music onto us, their children.
Those fun loving teens and children in the booklet of our debut album, When Life Comes Knockin' - that's them, our parents.
Our album was recorded in 2018.  We didn't want to produce an album that sounded like it was recorded in the fifties.  These are modern times, we're a modern band, we want to be free to create our own music, our own sound.  But coursing through the veins of our music, in every song, you'll hear echoes of the past, a twangy guitar, a slap of bass, some rock, some roll, some innocence, some romance and above all the spirit of the parents we love.
What's in a name?
So our band name is a tribute but we are most definitely not a tribute band.
All veterans of the local bar band scene, Nicola and John were already in a band together and they were joined by Dave (who incidentally has played The Cavern Club three out of the last five years as part of James Burton's UK backing band) and former LIPA student and bass tutor at BIMM, Kurt.
The four of us came together because of our mutual admiration for one band.  When Imelda May's Love Tattoo and Mayhem albums dropped on our doorsteps, more or less overnight half of our set became Imelda May songs!  It also overnight ended our chances of getting local gigs because we weren't playing the standards.
And so began our journey; one that would end in the release of our debut album.
18 months from conception to launch but recorded in only six days, our album is entirely self-funded. No crowdfunding or management or label money for us, we did it the hard way.  We gave away a third of our belongings to charity to create a small space to record demos and write the songs in.  Then we raided the piggy banks to enable us to record them in the very same Embassy Studios that Imelda's albums were recorded in, using the same amazing sound engineer, Graham Dominy and now we are proud to say that When Life Comes Knockin' is going to be released on the same record label, Foot Tapping Records, the UK's largest rockabilly label :-)
We hope you like it!
Nicola, John, Dave and Kurt, xx 
Press Photos
Live Performance - Johnny's Gotta Boom Boom (Cover)