LOVE TATTOO BAND:
NICOLA CARLA - VOCALS
JOHNNY J - GUITAR
THOMAS SCHULTZ - BASS
DAVE WEST - DRUMS
When Life Comes Knockin' by Love Tattoo is their much awaited debut album featuring 13 original tracks.  
The album is being released on Foot Tapping records and will be available to buy on CD or download.
Debut Album - When Lifes Comes Knockin'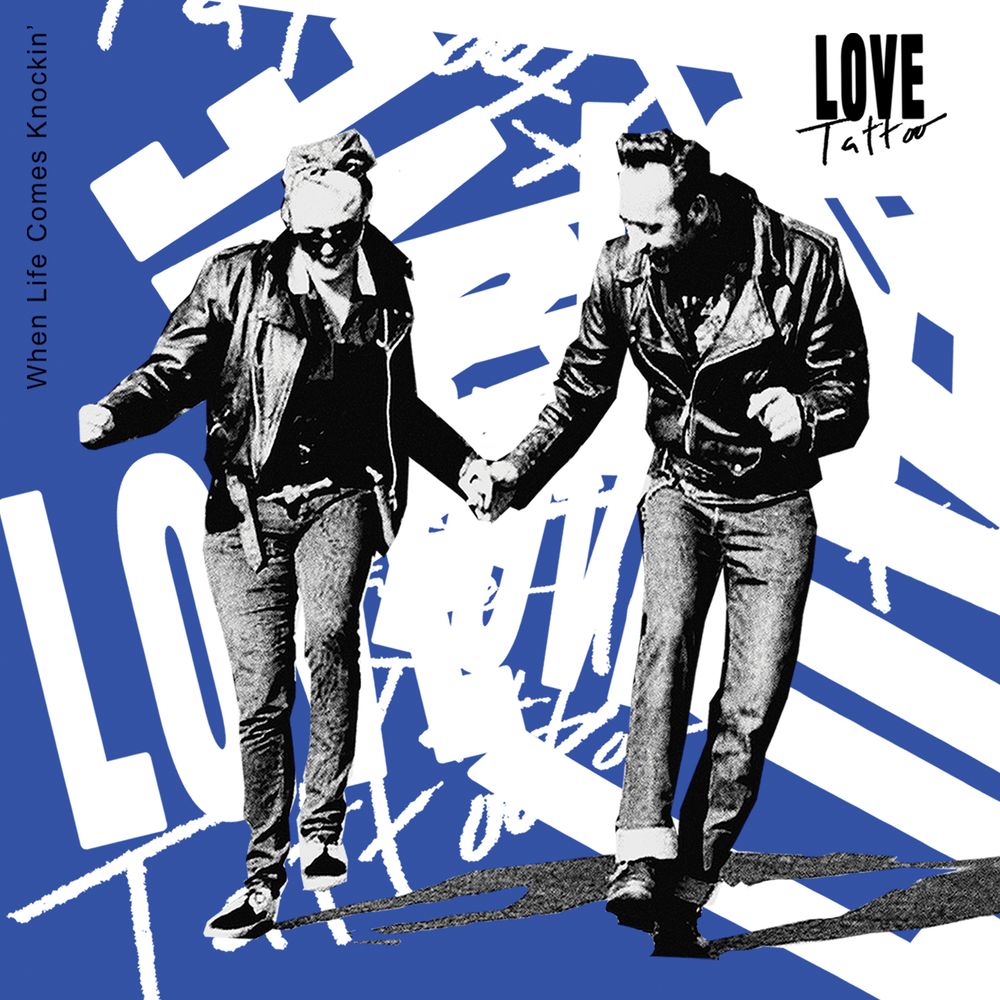 No-one will like it
So... why on earth would four people, along with two double basses, four guitars, a drum kit and various other paraphernalia decide to pile into a van and undertake a seven-hour journey to a recording studio in sunny Hampshire UK on what turned out to be one of the hottest days of summer 2018? 
"They won't like it" they said. 
"They won't know how to label it" 
"It's not rockabilly enough" 
"it's too modern", 
"too jazzy", 
"it's too hard", 
"it's too soft", 
"it's, it's it's!..." 
Well... you know what it's like when you're told you can't do something? ;) 
We hope you like it :) 
LOVE TATTOO
LATEST NEWS
"

A modern rockabilly band fronted by a feisty femme vocalist are attracting attention already with this 13-track debut album on shiny. That lady on lead vocals is Nicola Carla and like the rest of the band - Kurt Fox on bass, Dave West on drums and Johnny J on guitar - she was born a few miles away from the Liverpool Cavern Club. The band name was inspired by the Imelda May title and there's some fine writing complemented by excellent picking from Johnny J. We are likely to be hearing more from these seasoned musicians."
— Vintage Rock Magazine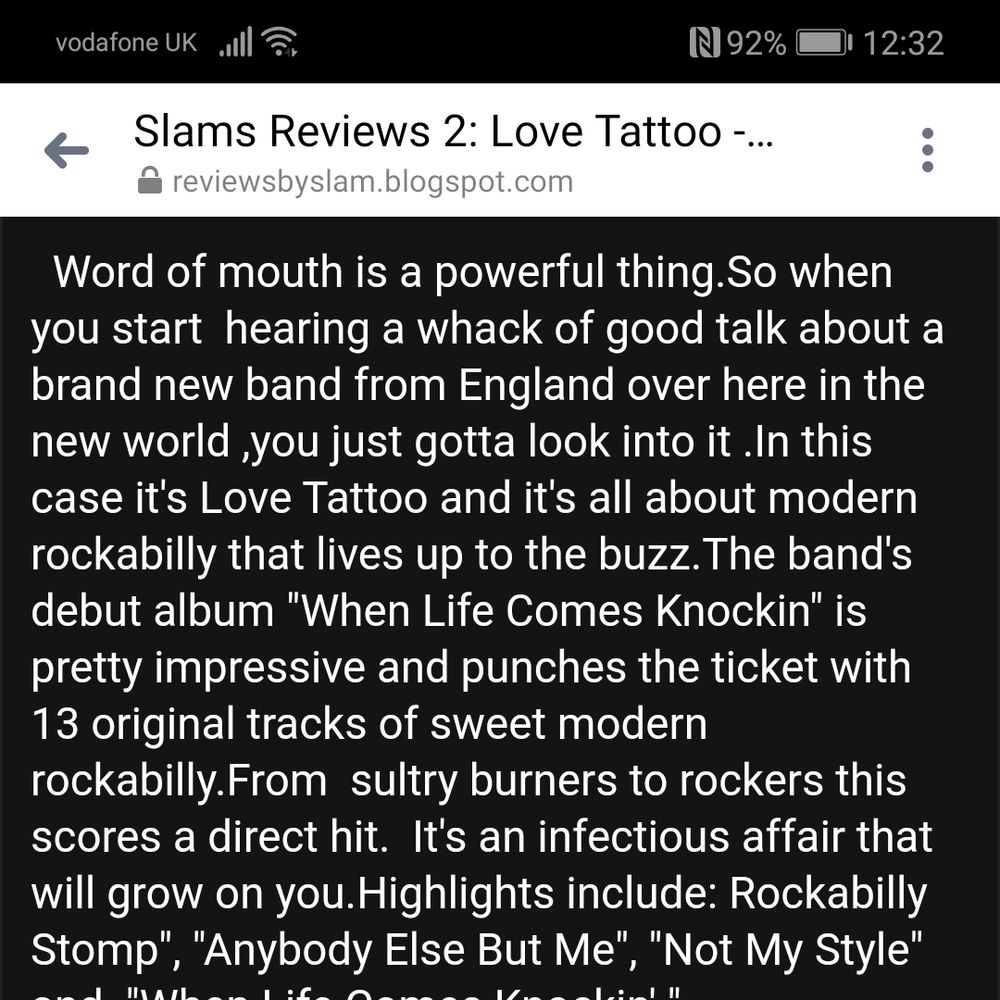 Album review by Shakin Katz Radio!
Word of mouth is a powerful thing :-)
Shakin Katz Radio has been on air now for over 11 years and are Canada's longest running rockabilly/psychobilly and surf radio shows.
The show goes lives on CHRW- FM 94.9 every Wednesday 7-9pm EST and the show has a pretty good following from around the world!
We were thrilled when Shakin Katz Radio got in touch with us to say some of their listeners were requesting Love Tattoo and we immediately sent them a copy of our debut album.  Since then a number of our songs have been played on the station which is just awesome!
To put the icing on the cake they have now given us this amazing review on their blog called Slams Reviews 2!  To check at the full review click here: https://reviewsbyslam.blogspot.com/2019/08/love-tattoo-when-life-comes-knockin-2019.html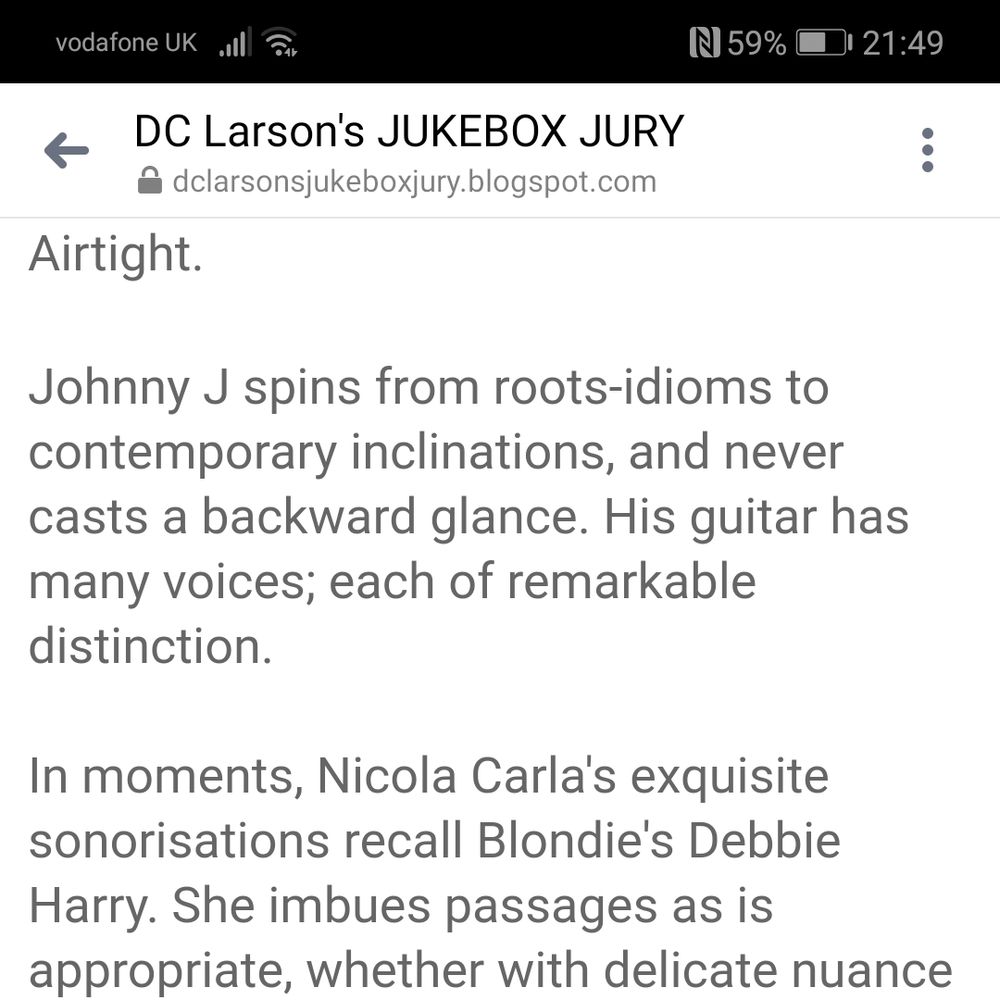 Album review by DC Larson!
Airtight!
DC Larson is the author of "Flesh Made Music: Rock and roll reviews and essays."  His music and culture writings have run in Rockabilly magazine, Pin Up America, Blue Suede News, Wrecking Pit, Crackerjack, Punk Globe, Goldmine, No Depression, Rockabilly Bash, Rock and Rap Confidential, Rebel Rouser, and elsewhere.  He's written press releases for the late Colin Winski, liner notes for Rockats and Barry Ryan releases and was contracted to write for Robert Gordon's European Website.
To read his full review of our debut album go to https://dclarsonsjukeboxjury.blogspot.com/search?q=LOVE+TATTOO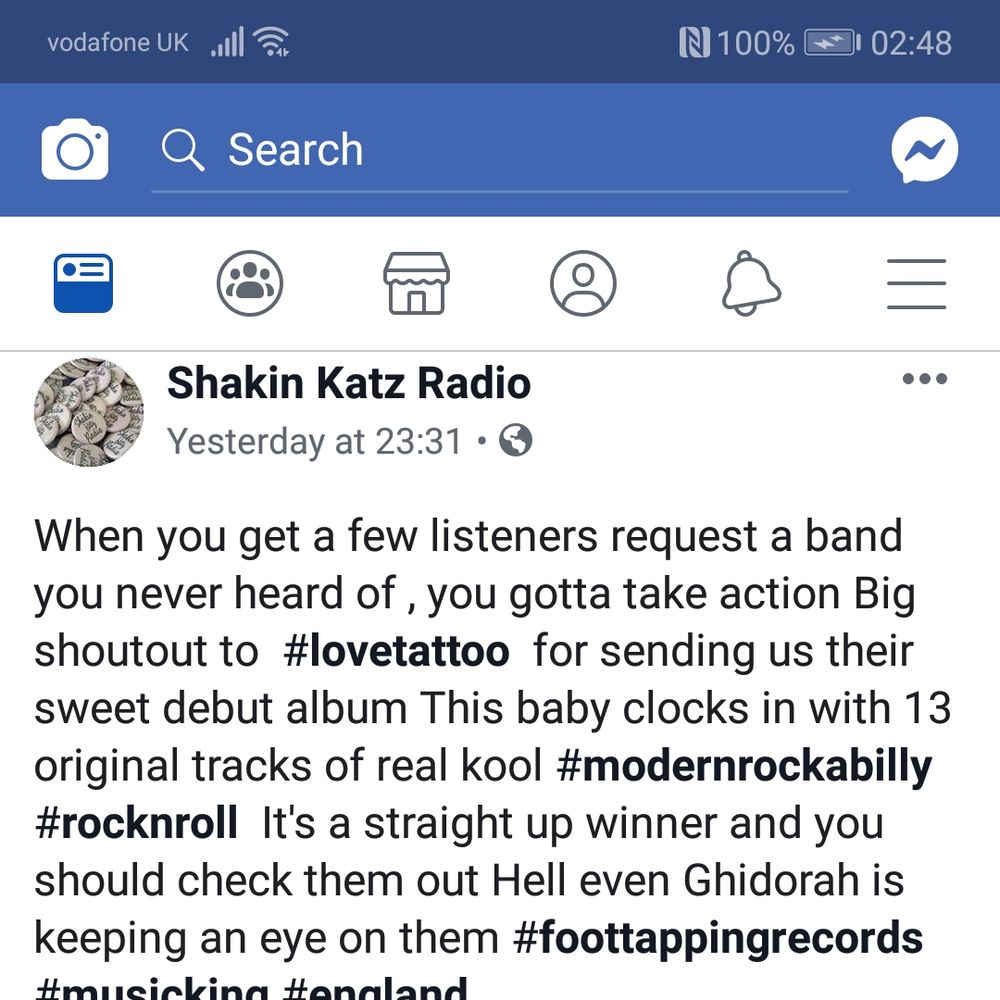 It's a straight up winner!
Shakin Katz Radio
When Life Comes Knockin, the title track of our debut album, was aired on Canada's longest running rockabilly/psychobilly and surf radio show on Wednesday 24th July 2019.  
This show has been on air now for 11 years and so we are honoured that they have liked our album enough to play one of the tracks!
You are visitor number: 4629